The "Au Milieu des Fougères" estate, whose name translates as "Amid the Ferns", lies at the heart of the Basque Country, 20km or so from Biarritz. Nestled in the delightful village of Sare, the property offers a unique, majestic, lavishly welcoming setting all year round.
Be it for a wedding, a private reception, a seminar, or a made-to-measure event, the estate's flexible offering, attentive team and authentic beauty make it the ideal venue for your celebrations in the Basque Country.
The Rigoux family will be your hosts in an incredible 17th-century farmhouse boasting a fresco listed as a Historic Monument. Experience life "Au milieu des fougères": full of emotion, history, authenticity and fun, with an unbeatable view over the most beautiful mountaintops of the Basque province of Labourd.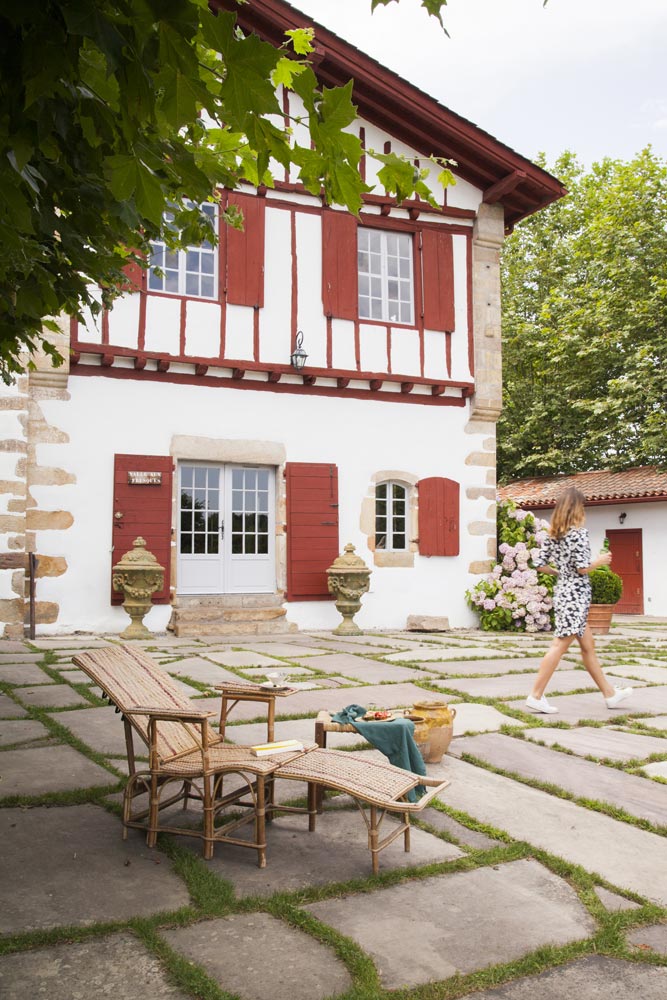 The estate
The estate Au milieu des fougères, it is a painting of Ramiro Arrue,
a poem by Verlaine, the calm and exquisite simplicity of a whole country
in one place.
Your event
For the organization of your event,
Au milieu des fougères
offers a unique space in the Basque Country.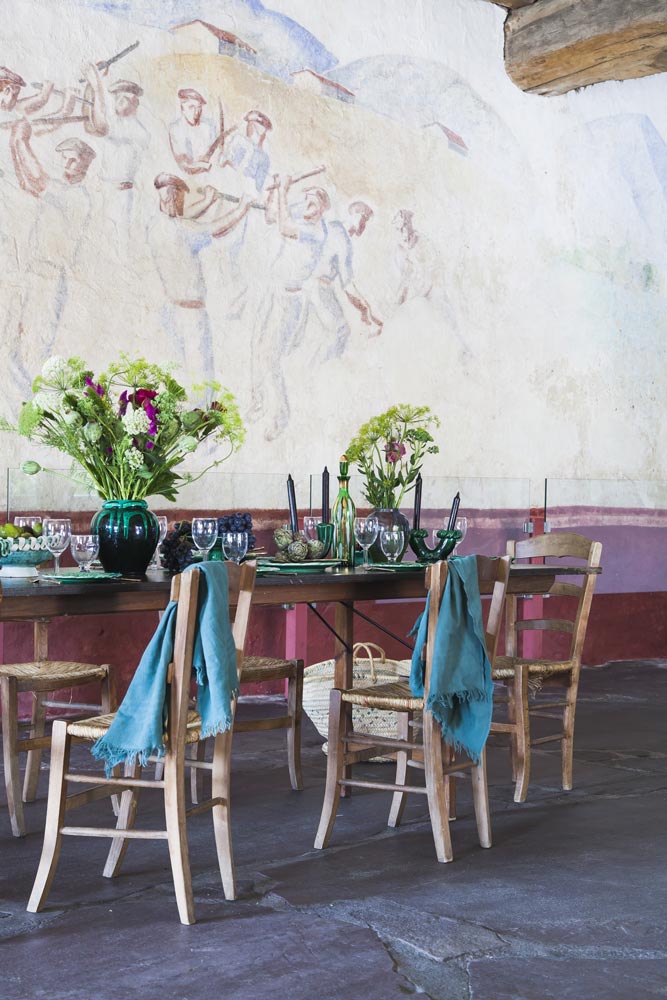 Our accommodation
Staying in the field In Au milieu des fougères
it is to taste the essence of the Basque Country with full teeth.
"Un lieu qui a une âme qui fait du bien au corps et à l'esprit. Bravo."
Benoit J.
"Ici, on oublie tout c'est magique ! Bravo et merci pour l'accueil."
Nicole M.
"Merci de nous avoir reçu pour un week-end inoubliable. Nous tenons à vous féliciter pour le charme et le très grand confort de votre maison."
Francis N.
"C'est avec grand plaisir que nous revenons passer des vacances dans ce petit paradis blanc et rouge… C'est sûr nous reviendrons bientôt !"
Nadia C.
"Merveilleux endroit et merci de nous permettre de passer quelques jours dans cette magnifique demeure. Nous sommes enchantés par la beauté du paysage."
"Un excellent séjour dans cet endroit plein de charme et de souvenirs du passé basque. Nous reviendrons avec bonheur."
"Quelle découverte, quelle histoire que cette demeure restaurée par Mme et Mr Rigoux avec un goût admirable. Comment ne pas passer un agréable séjour, après avoir séjourné tant de fois au pays basque pourquoi chercher d'autres adresses pour nos prochains séjours ?"
"Une âme, du goût, une passion partagée avec vos hôtes. Bravo."
* By submitting this form, I accept that the information entered will be exploited as part of the request for information and the commercial relationship that may result.
Ihartze artea
Chemin de Lehetchipia
64310 Sare
Getting to Au Milieu des Fougères
So hidden, yet so easy to reach…
If travelling from Biarritz airport, railway station or city centre, you will soon escape the hustle and bustle of the built-up area around Biarritz, Anglet and Bayonne in favour of much quieter roads. The estate is just a 20-minute drive away.
On arriving in Saint-Jean-de-Luz town centre, treat yourself to a Mouchou, an almond-based delicacy by famous patissiers Pariès, and savour its flavours at the foot of the towering Larrun mountain in less than 30 minutes.
If you are coming from Spain, the Au Milieu des Fougères estate is a 40-minute car ride from San Sebastian / Irun airport.
Finally, from the church in Sare, the estate is a 10-minute walk along the Roman road or a 2-minute drive along the avenue of plane trees.